Colosseum RankingSystem V2.0, Comprehensive Balance, New Content, and much more.
Manual Patch: https://drive.google.com/file/d/1Orf9HizMhHXwCkDvkuVx2-Ph4w1ElMa9/view?usp=sharing
Introduction
We are so happy to present to you our Rising2018 Patch (Patch 15). This is a HUGE patch and there's a lot of really cool and awesome stuff. The comprehensive gear balance project and the comprehensive skill balance project have been in development for MONTHS and we're so excited to finally share them with you.
Summary:
Colosseum Ranking System V2.0

Project Lead: @Nitex

Summary: A brand new ranking system for Colosseum where there are brand new, exclusive prizes for the Top 10 Players in Battle Royale, Top 10 Players in Party Match, and Top 3 in both categories.

Goal: Improve the competitive aspect of Colosseum and reward the best warriors with exclusive prizes.

Comprehensive Gear Balance

Project Lead: @[GM]Fayth

Summary: A comprehensive stat revamp that has updated the stats on hundreds of items.

Goal: Improve overall balance between gears and sets, specifically improving the gap between Osmium and Terragrace gear.

Comprehensive Skill Balance
Acknowledgements:
I'd like to really thank our staff team. The staff team has spent so much time working on this patch and I can't express how proud I am with how everything came together. Over the past few months of deliberating, decision making, and critical thinking, we have truly accomplished something great.
I'd also like to thank our Balancing Team. We could not have done it without them! Being on the balancing team is no easy task, considering that the balancing team had to download a special patch every time we updated the balancing channel, re test the same skills over and over with different settings, and conduct hundreds of PvPs. Our balancing team was truly dedicated and unbiased.
Finally, I'd like to thank the players. We appreciate your dedication and love for Dekaron Rising. Seeing our players enjoy the server motivates us to work harder to improve the game and add new features. The feedback and bug reports you provide are very useful, and your patience with support tickets is very appreciated.
Rising Colosseum Ranking System V2.0
Rankings will begin on January 1st and be reset on January 31st. On January 31st, the top 15 players will be mailed an exclusive reward.
Prizes will be sent at the end of each month when the points reset.
What is the Rising Colosseum Ranking System V2.0?
Every month, each character starts out with 0 Battle Royale Points and 0 Party Match Points.

For every match, the character will receive B Points or P Points (win = more points, more kills = more points).

Rankings will be displayed on the website (go to the top and click Rankings) to show which characters have the most Battle Royale Points and which have the most Party Match points. You will also be able to check your individual ranking as well.

What if my character wins top 10 in both BR Ranking Points and PTM Ranking Points?




In this case, the character will receive both prizes. Epic bragging rights.

We will be adding more prizes as we see fit.
Where can I access the ranking list & leaderboards?
The website has been updated with a ranking page (see top navigating bar, look for RANKINGS). Alternatively, here's the link: https://dekaronrising.com/index.php?/rankings/
You can also check the in-game colosseum Ranking NPC -- however the NPC is only updated once a day and is not always accurate. The website ranking list is the most accurate and is updated after every match.
At the beginning of each month, everyone will start with 0 BR Ranking Points and 0 PTM Ranking Points.
Prizes: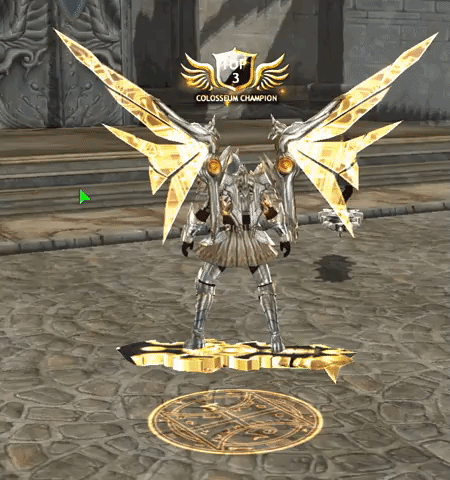 Battle Royale Prizes:
Battle Royale Top 3 -- 'Top 3 Colosseum Champion' 30-Day Head Emblem (+10 Str/Spr/Dex/Heal)
Battle Royale Top 10 -- 'Golden Hoverboard' 30-Day Exclusive Mount
Battle Royale Top 15 -- Your character name on the Top 15 Monthly Leaderboard
 
Party Match Prizes:
Party Match Top 3 -- 'Top 3 Colosseum Champion' 30-Day Head Emblem (+10 Str/Spr/Dex/Heal)
Party Match Top 10 -- 'Golden Mechanic Wings' 30-Day Exclusive Wings
Party Match Top 15 -- Your character name on the Top 15 Monthly Leaderboard
Miscellaneous:
Colosseum will be heavily monitored using new tools to ensure that the top 15 players are the ones who have earned their rank at the end of the month. Players caught attempting to cheat the system will be permanently banned from Colosseum on ALL of their accounts. The system will have new monitoring tools that will log who was in each battle.

Added 'Basic Hoverboard' Mount to the B/P Coin Exchange at NPC Darin.



Comprehensive Gear Balance
Balance Team Notes
Overall goal of this gear balance:
To lessen the massive gap between Osmium and Teragrace. In the past, Osmium stood no chance against Teragrace. This mainly happened because Teragrace gave a very high amount of Heal stats whereas Osmium gear doesn't give heal stats at all.
Teragrace used to be more than 250% better than Osmium just calculating the heal stats alone. That percentage does not take into account the added vitality and other various stats.
Miscellaneous Changes:
Teragrace, TeragraceMC,  Speedboots V2, and Speedboots V3 are all required level 190.

Kona Robin is now fixed completely, see details below

Parca's Tear balance adjustment

All emblems now have the same stats (Dshop emblems removed from Dshop and added to NPC Lowe obtainable by PP)
Plumes:
Weapons:
Base damage of all weapons remain the same.
All level 200 weapons have +300 base damage compared to all level 195 weapons.
Rings and Necklaces:
Affected stat -- Vitality, all other stats remain the same.
Kona Robin -- Is now fixed completely.
- Required Level 180
- Untradable
- Updated ISLimit, you can wear 4 of them at once.
- All stats changed to what they were intended to be (See Patch 13.4 Notes)
- Vitality matched to +9 Zieg Necklaces
Parca's Shiny Tear -- Balance Adjustment
- Reduced +3% PK/PVP Damage Tolerance to 2% PK/PVP Damage Tolerance
Emblems:
Emblems {All Emblems stats modified to +10 Str/Spr/Dex/Heal also}
DShop Emblems removed from Dshop and added to NPC Lowe.
Reduced stats from +50 Str/Spr/Dex/Heal to now +10 Str/Spr/Dex/Heal
MagicEmblem Sun Dragon (Body)

MagicEmblem Curse Dragon (Body)

MagicEmblem Aqua Dragon (Body)

MagicEmblem Sun (Head)

MagicEmblem Fire (Body)

MagicEmblem Sun (Body)

MagicEmblem Poison (Body)

MagicEmblem Blue (Body)

MagicEmblem Curse (Body)

RARE MagicEmblem SunEnergy (Body)

RARE MagicEmblem Moon (Head)

RARE MagicEmblem PoisonLeaves (Body)

RARE MagicEmblem Ice (Head)

RARE MagicEmblem Fire (Head)

Frost Emblem (Feet)

Siege Winner Emblem
Teragrace Changes:
Teragrace Helmets
⤧ Heal stats removed
⤧ +5% Max HP reduced to +3% Max HP
Teragrace Armors
⤧ Heal stats removed
⤧ Seguriper - Reduced +204 Str to +170 Str
Teragrace Gloves
⤧ No Changes
Teragrace Pants
⤧ Azure Knight - Heal stats removed
⤧ Segita Hunter - Heal stats removed
⤧ Incar Magician - Heal stats removed
⤧ Vicious Summoner - Heal stats removed
⤧ Segnale - Heal stats removed
⤧ Bagi Warrior - Heal stats removed
⤧ Aloken - Heal stats removed
⤧ Dragon Knight - Dex stats removed (DK Pants had an extra line of Dex that no other class had)
⤧ Black Wizard - Heal stats removed
⤧ Concerra Summoner - No change (CS Pants didn't have any heal stats)
⤧ Seguriper - Heal stats removed, +135 Spr reduced to +98 Spr (Osmium has +48 Spr)
⤧ Half-Bagi - Heal stats removed
Teragrace Boots -- Note: Osmium boots have Dex instead of Heal, adjusted stats to make the gap smaller. Osmium also does not have vitality stats.
⤧ Azure Knight - Changed Heal to Dex, removed Vitality
⤧ Segita Hunter - Changed Heal to Dex, removed Vitality
⤧ Incar Magician - Changed Heal to Dex, removed Vitality
⤧ Vicious Summoner - Changed +48 heal to +78 dex, removed vitality (+10 VS Osmium boots have +68 dex)
⤧ Segnale - Changed Heal to Dex, removed Vitality
⤧ Bagi Warrior - Changed Heal to Dex, removed Vitality
⤧ Aloken - Changed Heal to Dex, removed Vitality
⤧ Dragon Knight - Changed Heal to Dex, removed Vitality
⤧ Black Wizard - Changed Heal to Dex, removed Vitality
⤧ Concerra Summoner - Changed +68 heal to +110 dex, removed vit (+10 CS Osmium boots have +90 dex)
⤧ Seguriper - Changed +150 heal to +96 dex, removed vit (+10 Segu Osmium boots have +56 dex)
⤧ Half-Bagi - Changed from +100 heal to +64 heal, removed vit (The reason why they still have heal stats and not dex is because +10 HB osmium boots have heal stats.)
Speedboots V2
⤧ Stats matched to new Teragrace Boots
Speedboots V3
⤧ Stats matched to new Teragrace Boots
TeragraceMC Helmets
⤧ Stats matched to Teragrace Helmets
Level 170 (Egutt) Sets
All +9 Egutt set stats are now reduced.

Osmium +8 is now stronger than Egutt +9!

Osmium sets already drop +7 from Mitera.

(

Mitera Guide

)
CONTINUED IN THE COMMENT, PLEASE KEEP SCROLLING