Completely re-designed Parca Temple, New Weapon Skin, Massive UI Upgrades, and other Miscellaneous Improvements!
Manual Patch: https://drive.google.com/open?id=1HQZBSHuLRqfjLdMxYgOlk84uFIr-A62e
Verdia Temple
This is part 2 of the Dekaron Rising Parca Temple Lore.
You can read part 1 here:
https://dekaronrising.com/index.php?/forums/topic/27494-dekaron-rising-lore-parca-temple-purification-progress/
Click on pictures to enlarge them!
-
Warriors!
Lab Chief Verdia offered to help getting rid of Seleana from Parca Temple, however what we didn't know was that Verdia has gone mad from her Sap experiments. To get rid of Seleana, Verdia released her newly crafted Sap Gas into Parca Temple!
Well the Sap Gas got rid Seleana, but it also turned Parca Temple into one BIG mess.
All the creatures of Parca Temple have mutated and turned into atrocious beings!
Once again it's up to you guys to aid Binaelle Fairie in purifying Parca Temple. You can do that by killing Lab Chief Verdia and bringing Sap Bottles to Binaelle Fairie for unique rewards!
The Parca Temple rework includes features such as:
I. New items on Binaelle Fairie Exchange!
Verdia Uniform Costume (2000 Sap Bottles)*
[Skin Diamond] Red Light (2000 Sap Bottles)*
Divine Ventus Token (2000 Sap Bottles)
Gemcraft Booster (400 Sap Bottles)
*These items are only obtainable from the Sap Bottle Exchange
II. Parca Temple has received a completely new texture overhaul!
III. New monsters in Parca Temple!
You can lure as many of these monsters as you can survive, which allows better solo capabilities!
IV. Slime Nest!
We added a small area in Parca Temple where Slimes spawn. Slimes have a 1% chance of dropping a Slime Pet!
V. Debuffs & Cocoons!
Warriors! Be careful when wandering behind the safety barrier in Verdia Temple! Wandering around in the Sap Gas may poison you and reduce the effectiveness of potions and other healing attributes!
As the Sap Gas continues to spread, Cocoons will spawn every 4 hours! Most of these are guarded by a fresh but weak Sap Testee. These Cocoons have a 100% chance of dropping 6 Sap Bottles, so keep an eye out for them!
VI. Blood Bottles have been changed to Sap Bottles!
New Weapon Skin: Sap
We're extremely happy to see that all of our players enjoying the new Weapon Skin System that we created. It wasn't an easy task to make (and we're the only server that has been able to do so), but we're glad it was worth it. Since the Weapon Skin System was released, we've created 6 new skin possibilities to allow you to truly make your character look exactly how you want it to.
The latest Weapon Skin has arrived and it's called [Skin Diamond] Sap
To get your hands on this skin you must kill Lab Chief Verdia in Parca Temple!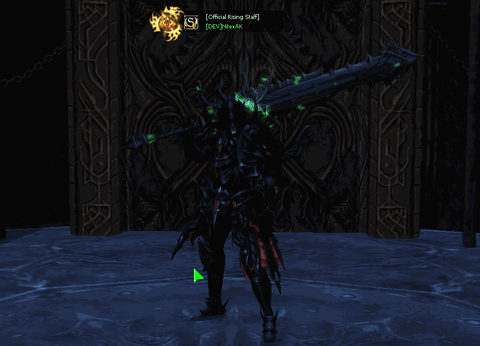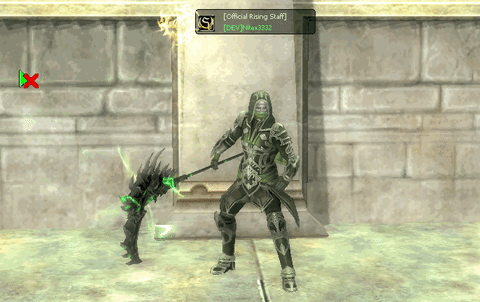 New Boss: Lab Chief Verdia
Lab Chief Verdia
Lab Chief Verdia has begun her evil Sap gas experimentations in Parca Temple. She uses poison and traps to best her foes.
Difficulty: Very Hard
Drops: [Skin Diamond] Sap
Drop Rate: 33%
Dils: 10m
Respawn Time: Every 4 hours
Map: Parca Temple
Channel(s): Ark
HP: 180000000
Attacks:
1) Normal melee attacks that damages the player on impact
2) A long range attack that damages the player on impact
3) A linear AOE attack that damages all players in a straight line 1-3 times. This also drains the HP of all targets hit for 30 seconds
4) Traps. Verdia summons Sap Shurikens all around the edge of the arena, which will kill anything caught within their range
5) Poison Eggs. Verdia has 4 Poison Eggs in her arena. These eggs will randomly spawn poison bombs around the arena
6) Passive Ability: Being experienced with poison experiments has made Lab Chief Verdia resistant towards

Poison

.
Tactics: Stay away from the edge of the arena. Try to take out the poison eggs and then focus on Verdia afterwards. Have 1 person tank the boss and 1 person healing the tank.
Trieste Wings
The wings of Trieste have made it to the D-Shop. There are four versions, all work on ALL classes.
Trieste Wings (Medium)
Trieste Wings (Large)
Trieste Wings Rainbow (Medium)
Trieste Wings Rainbow (Large)
Massive UI Upgrades
We've upgraded the game UI with both new versions and some new versions.
Character select UI upgraded to new version
Character create UI upgraded to new version
Custom notice UI added to login screen
Login UI upgraded to a custom version
Socket creation UI upgraded to new version
Option creation UI upgraded to new version
Option removal UI upgraded to new version
Argating UI upgraded to new version
NPC conversation UI upgraded to new version
Buff bar UI upgraded to custom version
Debuff bar upgraded to custom version
Loading screen UI upgraded to custom version
Party UI upgraded to custom version (Thanks to @Roku)
Miscellaneous Changes
Updated Loading Screen
Updated Login Screen map
Greatly improved the amount of Purchase Points and Grade Points that are obtained in DKSQ from killing other Players. (All ranks now give more PP/GP per kill)
Minimum Level Requirement to enter DKSQ is now Level 190
Fixed +875 HP & MP Gems
Fixed +100 Elemental Resistance Gems
Spikes in DKSQ have been removed

Fixed a bug that made the players unable to buy Imperial Potions from Binaelle Fairie

[Skin Diamond]'s now show their price when vended in a personal shop

Fixed [Skin Diamond] Sun description

Fixed some bosses that had buggy attacks

Added Dragon Knight Soaring Wings to the Starter Box

Fixed the Dragon Knight Meister skills that still costed PP instead of dils. They now also cost 1 dil ea.

Raid members required to enter Cherubim's Nest have been lowered from 12 to 4

Slightly lowered drop rate of Sap Bottles from monsters in Parca Temple, since we added Cocoons
Fixed a bug with the Blood Templar and Templar of Light Costumes for Dragon Knight
 
Half-Bagi Maelstrom Katar -- Left Katar now appears with the Maelstrom Skin instead of Purple Crystalline
Removed 7% Attack Gem Random-box from D-Shop
Removed the Khaleesi Channel
Fixed Blood Magic D-Shop Buff Description (Increases All Resistance by 5%, not 10%)
Fixed Rapid Fire, it no longer interrupts opponents from being able to use skills for the duration of the skill