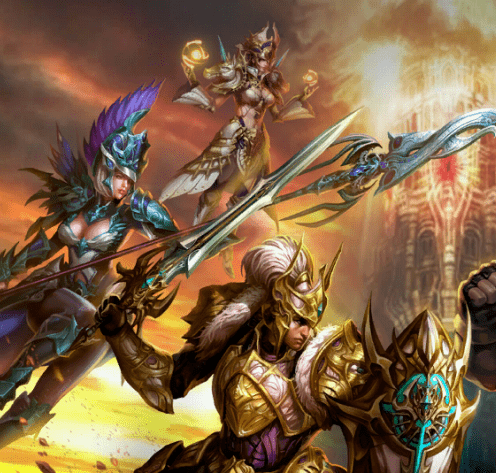 Warriors!
We're applying a mini-patch with some fixes.
Manual Patch: 
We're changing how we make updates and push out balance changes! This means faster updates and better balancing! Start by reading the post below (if you didn't already) 
Siege Scheduled
Siege scheduled for Saturday, May 7th
DK-Square Revamp
DK Square upgraded to newer version

Client upgraded to properly support new DK Square map without FPS or freezing issues
215 Skills PVP Damage ENABLED!
The last couple of weeks our team has been working not only on balance in general but also on the mission to enable the long awaited 215 skills for pvp.
We want to reinforce that these changes are by no means final, we will be closely monitoring pvps and listening to our community in order to rebalance whatever needs so.
Our approach to these skills, for now, is adding damage values and focusing as little as possible on debuffs/buffs so we can slowly but surely perfect it whilst taking minimal risk of breaking the game.
Naturally, most classes will have 1 skill for pvp and 1 skill for pve.
Azure Knight
Pvp: Rondar
Pve: Tumer
Dragon Knight
Pvp: Inart Probe 
Pve: Aerial Wind
Segita Hunter
Pvp: Disminua 
Pve: Aim shot
Segita Shooter
Pvp: Popyrus 
Pve: Swiftan
Incar Magician
Pvp: Egnoing
Pve: Levita
Black Wizard
Pvp: Rainier
Pve: Lillish
Vicious Summoner
Pvp: Rotanas/Penetra
Concerra Summoner
Pvp: Exture/Binef
Segnale
Pvp: Mana Creep 
Pve: Pricspy
Seguriper
Pvp: Opunrazy
Pve: Eolly
Bagi Warrior
Pvp: Impressdun 
Pve: Pricspy
Half Bagi
Pvp: Rage Split
Aloken
Pvp: Pibistab
Pve: Resca
Balance 
Concerra Summoner
 LegRegion Hell :
↓Damage decreased slightly

↓Damage decreased slightly

↓Damage decreased slightly

↓Damage decreased slightly

 
Mage
↓Cooldown increased from 59 seconds to 65 seconds

↓Cooldown increased from 22 seconds to 30 seconds

↓Abnormal Resist removed

↓ HP decrease debuff removed

↓Damage decreased slightly
Azure Knight
Hunter
Segnale
↓Cooldown increased from 80 secs to 85 secs

↓Cooldown increased from 35 secs to 40 secs

↓Cooldown increased from 60 secs to 65 secs

 
Segeuriper
↓Decreased healing debuff from 45% to 25%

↓Cooldown increased from 20 secs to 30 secs

↓Cooldown increased from 16 secs to 20 secs

↓Damage decreased slightly

 
Shooter
Aloken
Half Bagi
Segita Shooter
Pistol Mastery Lv10: +10% Lightning Damage -> +5% Lightning Damage

Cannon Mastery Lv10: +40% Fire Damage -> +30% Fire Damage

Fixed issue with level damage calculation
Pets
↓Pet damage reduced by 50%
New Cosmetics 
APRIL VALENTINE'S

We had an issue with these, sorry for the delay.
Heart Emblem
Hoodie of Love
Wings of Love
Emblems
Crystallix Emblem
Metallic Crystallix Emblem
Costumes
Training Costume (Male)
Training Costume (Female)
Client Upgrade / Performance Improvements
Updated client to use newer version of DirectX and better utilize NVIDIA drivers

Improved game client FPS, should be much smoother now

Improved client performance on Windows 11
Bug Fixes/Misc
Fixed a bug which prevented players from buying Vampire Costume.

Rondow Emblem is now permanent as it was first intented to.