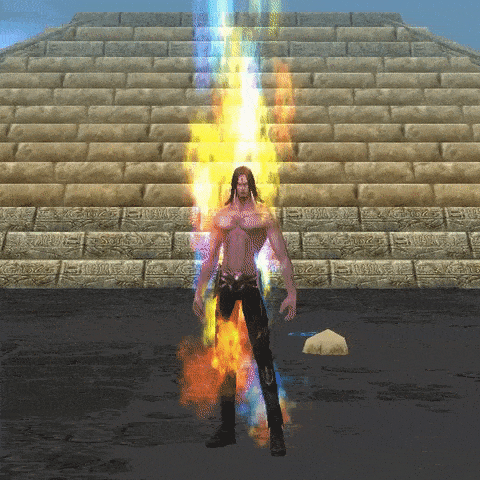 Manual Patch:  Soon
New Systems
possibly Apologies for the lack of updates recently. We've been working on two new systems that will let us make some pretty awesome things with the game. We're extremely excited to show you them. You saw them here first.
Tracking System
The tracking system we released in beta a few weeks ago. It took some tweaking to make it work perfectly, but we got it! It will enable a lot of awesome new things from new quests, to dungeons, PvP modes, matchmaking, and much more. So far...
Kills are tracked

Segnale/Seguriper ressurections are tracked (self and player)

Soon: Monster kills (for quest purposes)
UI System
With the addition of new quests and PvP modes that we're adding, we needed a way to be able to make the game write custom UI for us -- that is much more robust than a simple text field, and even interact-able. Well, in a first for pservers, we did this, and its pretty awesome. It will be used for the PvP modes, quests, and much more. It's first use will be the MvP system (see below).

Announcement/Information System Upgrade
We've created a new announcement system that allows us to do much more with announcements.
We will slowly be upgrading existing announcements to the new version that we have created.
The new version allows us to:
Create announcements that minimize visual clutter

Custom Quest information for custom quests (oops, did I just give away an upcoming feature)?

M Create announcements that appear both to individual players or all channels.

Show a live status of who is alive and who is dead.
DK-Square MVP System
The MvP sytem is pretty awesome. Like, really awesome. It allows you to see who the current MvP is in realtime, allowing the enemy team to focus him and you to try to beat his score.
Scoring
Kill = 1 point 

Player resurrection = 1 point

Self Resurrection = 0 points
Prizes (will start after beta)
MvP one match = 30 minute DKS MvP Emblem (sent immediately after DKS ends) (Red)

MvP three matches (in one day) = 24 hour DKS MvP Emblem (Yellow)

MvP 15 matches (within one week) = 1 Week DKS MvP Emblem (Blue)

MvP Highest of the Month = 1 Month DKS MvP Emblem (Yellow/Red/Blue)
Ultimate Lach and Squama
Ultimate Lach -> Key to power + Upgraded Lach + 5K B Coins + 15K P Coins
Ultimate Squama -> Key to protection + Upgraded Squama + 5K B Coins + 15K P Coins
Key to Power -> 25M PPoints
Key to Protection -> 25M PPoints
Upgraded Lach -> 10M PPoints
Upgraded Squama -> 10M PPoints
Normal Lach -> 2000 Narukes
Normal Squama -> 2000 Narukes
V4 Speedboots
Random V4 Boot's Box -> 1K Hermes Fragment
Specific V4 Boots ( for each class ) -> 3K Hermes Fragment + 1 Hermes Crystal Shard
Part of this topic has been working on the live server for a few weeks
New players now start with :
2x 3% PK Gems

Teragrace Belt +9

2x Teragrace Armelets +9

3x Zeig gold +9

195 Weapons +10


 

Shangrila la mobs now drop teragrace gears +9 instead of +8
New Cosmetics
Desert Heat Emblem (Body)
Blaze Emblem (Body)
Sand Emblem (Feet)
Rondow Wings

What to expect in the next update
Automatic system to send Siege prizes

Automatic system to send DKSQ MVP prizes ( If beta test is over )

Full rework of 215 skills

More PVE content ( this part is allready planned just not released yet )

Balance changes ( specially after we add this new accessories )

Probably we release a new pvp system ( if we release it will stay on beta test too )

Rework Dungeons

Changes to the path how new players reach endgame and their gap to fully geared players

Updated guides on our website
Balance

Keep in mind that we are planning a full rework of 215 skills which imply additional changes to the general balance
 
Bagi Warrior
 Carnage:

↓

Decreased degen rate from 20% to 10%

↓

Increased cooldown from 18s to 22s
 Imbibe:

↓

Decreased block rate from 25% to 20%
Concerra Summoner
 Blitz:

↑

Increased success rate  from 82% to 90%
 Shadow Attack:

↑

Increased success rate  from 89% to 90% 
Aloken
 Punish:

↓

Decreased degen rate from 20% to 10%
Half Bagi
Dragon Knight
Nitex comments: "Dragon Knight continues to dominate in several scenarios due to its combos and stun durations. We have scaled back some of the damage on pulsing skills to make the class more skill based."
 Obortan 1:

↑

 Increased buff duration from 60s to 120s
Segita Shooter 
Min defeat rate increased from 10% to 14%

Siege Scheduled for July 31st, 2022.
Fixed Spell Kracion (Upgraded) texture;

Fixed Rainbow Kracion (Upgraded x2) not being able to be exchanged for;

Fixed Metallic Crystallix Skin appearing invisible in ToM Npc;

Fixed Light Wings (Half Bagi)'s effects;

V4 Stats fixed;

Fixed General Costume (Wizard) textures.

Fixed Helion Ghost Costume (AK) textures.

Fixed Hoodie of Love Costume (Seg) textures.

Fixed Shangri-La Blue, Gold, Green, Red and Purple Costume (Seg) textures.

Fixed Summer18 Green, Orange, Purple, Red, Teal and Yellow Costume(Seg) textures.

Rondow Helmet (Half Bagi) will no longer drop in Rudene.

Fixed Siege Hammer floor effects bug.

Readded Soaring Wings (Dragon Knight) to the Soaring Wings Box.